Pharrell, N.E.R.D., and Serendipity
Stories
Tuesday, 05 December 2017
1058 Views
0 Comments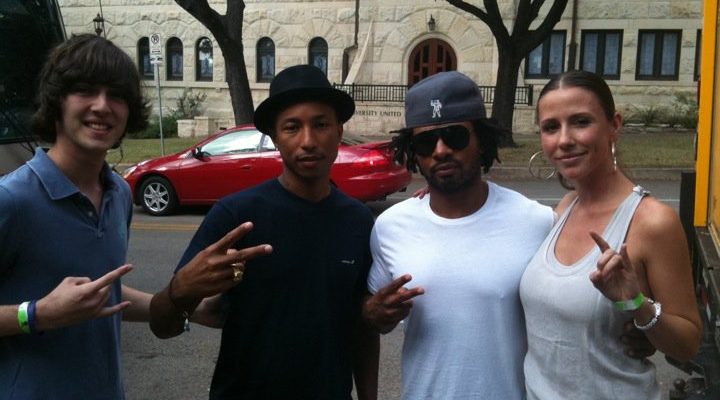 We all gotta start somewhere. It's Fall of 2010, I'm 20 years old, and had just been handed the reigns to Texas Student TV's hip-hop  show, which I'd renamed Longhorn Hip Hop; N*E*R*D* was opening for Jay-Z in Austin and had a speaking engagement on campus earlier that day. I grabbed one of the TV station's clunky cameras, (what I thought was) a fully charged battery, walked a few blocks down to our student union building, and took a front row seat with my TV station colleague, Lee Ann. Only Pharrell and Shay Haley showed up to the talk  — no clue where Chad Hugo was, maybe he has an ironic fear of public speaking — and I decided that after their talk I was going to try to flag them down for an interview.
Sure enough, as Pharrell and Shay walked out, I approached them and asked if we could talk for a few minutes for TSTV, and Pharrell said…. YES! Keep in mind, I had done three interviews up to this point (in order: The Cool Kids, Slim Thug & Z-Ro, and Bun B.) Now I was about to interview one of the greatest producers of my generation. So, I plugged my mic into the camera, Pharrell and Shay took their positions, Lee Ann flipped the camera on, I took a deep breath, looked and Pharrell and Shay, and then glanced back to the camera to find a look of horror on Lee Ann's face. She didn't even have to say anything, I knew the camera had crashed on us in some way. But I wasn't going to take that L, so, for the next five minutes I just had a conversation with Pharrell and Shay — they didn't have to know the camera wasn't rolling — they even did shoutouts for LHH and TSTV and everything.
I for sure never thought I'd have the chance to redeem myself, but, three years later, Paul Wall changed my stars.
It's SXSW 2013, and I'm cutting south through downtown Austin, walking towards the Four Seasons where every year Paul Wall hosts a party for the Texas chapter of The Recording Academy; I'm now 22 years old, I've just graduated college, I have a shiny, new, dependable (!) camera, and a new lease on life. Walking into the Four Seasons, Paul and his wife, Crystal, were right there in the lobby; I must have been a bit late because the first thing Paul said to me was, "Yo, Pharrell and Pusha T are over on that couch right now, I think you could still catch 'em if you're trying to get an interview." Paul is so dope for that.
I walk over to Pharrell and Pusha, introduce myself, and I lean to Pharrell and say, "I don't know if you remember this, but we did an interview on campus a few years ago…" To my surprise, he did! I told him what happened with the camera and then told him I was working on a UGK documentary and asked if he had time that week to do something. He and Bun were both playing Mass Appeal's showcase later that night, so, he asked if I was gonna be there. I said yes, and then Pharrell said,"Flag me down after my set, I got you."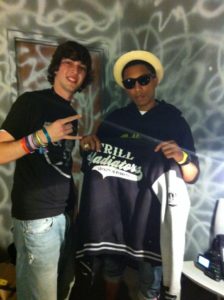 True to his word, as I stood in the hallway, and his set ended, Pharrell walked down the stairs and spotted me. He put his hand on my shoulder and gave a nod to his manager and said, "Him only." And walked me into his dressing room. I said my friend Marco was my photographer, and Pharrell allowed Marco into the dressing room, too, and no one else. And then we did our interview and my camera worked just fine this time and it was great.
Some of the best advice Paul Wall ever gave me was, "Watch how you treat people on your way up 'cause you never know who you're gonna need on your way down." Pharrell is a great example of someone who treats everyone he encounters with love and respect, and, obviously he's incredibly gifted, but I think that's part of why he's stuck around for so long. People remember how you make them feel, and I get the impression that most people Pharrell has worked with have had positive interactions with him. I could be wrong, though. I've been wrong before.
So that's my story and I'm stickin' to it. Watch my UGK documentary below, featuring Pharrell, Kendrick Lamar, J. Cole, Chuck D, Rakim, Just Blaze, Rapsody, Mos Def, A$AP Rocky, and many, many more.