SMNTCS Stories: Introducing My Dad to Chuck D
Stories
Wednesday, 01 June 2016
893 Views
0 Comments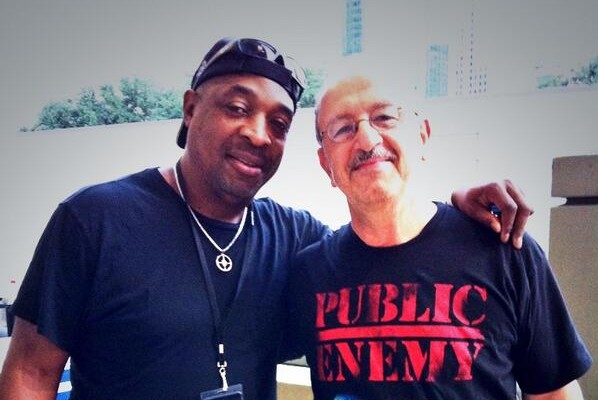 By the time this picture was taken, Chuck D and I had met and interviewed several times, most recently for the UGK documentary.
For some reason, he kept saying yes to my interview requests. I was 20 when we first met. At that age, you just want (read: need) to be around people who accept you and build you up. Chuck is great at that. When I was young and scared at the uncertainty of the future, he made me feel like I was on the right path. I'm sure if you ask around, you'll find a few thousand people who could say the same thing. So as I've grown up, I've made sure that any time Chuck and I are in the same city, I go to see him.
It was just a few months before I would eventually move to Los Angeles, and I saw that Public Enemy was in town. I wanted to ask him for tickets, but I didn't want to cross a line and go down a path that would lead to my eventually becoming a habitual line-stepper. My dad had never been to a rap concert, and, given his upbringing in a war zone, I thought Public Enemy's message would be well-suited for his inaugural rap outing. The pros of asking outweighed the cons.
"Chuck," I typed, "I'm going to be in Houston for your show, do you think I could come and bring my dad?"
"PEace SA Maan
[i love the way he stylizes my name.]
Houston is a bit more crazy, [but] I will work on it .."
Sure enough, when the day came, we had tickets waiting for us. Walking in, we bumped into Chuck outside the show. My dad and I were wearing matching Public Enemy shirts and khaki shorts. (My dad's shirt came courtesy of Devin the Dude's manager, Rico).
The sound at the show was awful and echoey and too loud and my dad couldn't hear a word, but I got a picture of Chuck and my dad, two generations of revolutionaries, standing side-by-side. And I witnessed them have a conversation. I don't even remember what we talked about, but I'm so happy it happened.
Several years later, Chuck's father passed away and I felt very heavy in my heart. I sent him a message to say he was in my thoughts, and he responded,
"SA Maan Thank you for your kind words my Dad was my superhero-powerful yet considerate human being …missing him big"
This is exactly how I view my dad, and I instantly knew that must have been part of the reason Chuck and I have bonded so well: we have a deep and sincere appreciation for our fathers. Once, I had to come clean and tell my dad that sometimes, when a song reminds me of him, I cry.
The most recent interview I did with Chuck was to be written, so I used my phone to record our conversation in the secret upstairs room of Amoeba Records in Hollywood. At one point, Chuck asks about my father. I probably lit up like a Christmas tree. Here was an artist I grew up idolizing–who I had managed to interview not just once but many times, who is now in the Rock n Roll Hall of Fame, who shared a conversation with my dad (who probably never thought he'd ever come close to the world of Hip-Hop)–now checking in to see how my father was doing.
As I walked back to my car I texted my parents the audio clip of Chuck talking about baba. I was thinking about the nights when I was still trying to convince them that rap music was alright. After dinner, I would show my parents Public Enemy and Digable Planets music videos as if to say, "Ya see? Politics and Jazz, there are rap groups for your two favorite things."